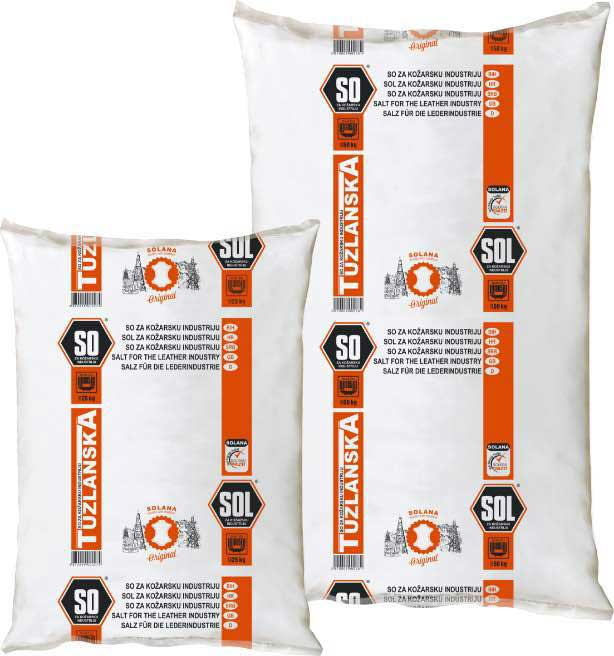 Salt for leather industry
Grey salt for leather industry is special salt intended for industry use. It removes excess humidity in skin and it has antibacterial effects. These characteristics make it ideal for preparing, perserving and tanning of leather. The main advantage of this salt is its specific granulometric composition which enables uniform spreading and extraordinary bonding with the leather thus giving great results in preparation and treatment of the material. Salt is packed in polyethylic bags of 25kg and 50 kg.
Product
Pack
Barcode
no
kg
no
kg

Salt for leather industry

25 kg
1
25
40
1000
3870009000274

Salt for leather industry

50 kg
1
50
21
1050
3870009000281
Product quality control
Quality control of all input, processed and output products is the basis process in Solana aimed at guaranteeing the quality of all Solana's products. Quality control is performed in private laboratories, continually during all production phases, and at the same time quality is validated in other laboratories as well.
Salt for leather industry
This is industrial salt of white color with noticeable grey shades. Its wide use in leather industry has defined it as a special type of salt.
Physical and chemical characteristics of products
NaCl
99,0 ÷ 99,5 %
E 536
to 10 mg/kg
Humidity
to 0,15%
Granolumetric composition
< 0,4 mm 80-90% >0,4 mm 10-20%
*

The physical and chemical properties given in this table resulted from analysis of average salt sample.

NUTRITION VALUE (g/100g of product)
Salt
97,8 g